Promotional
Blog Tour: Review + Guest Post - Tales of Blood and Sulphur: Apocalypse Minor by J.G Clay
August 10, 2015
Tales of Blood and Sulphur:
About the Author:
Apocalypse Minor
Tales of Blood and Sulphur
Volume One
J.G. Clay
Genre: Horror
Publisher: Forsaken
Date of Publication: 24th July, 2015
ISBN: 978-1513701998
ASIN: 978-1513701998
Number of pages: 212
Word Count: 77,000 words approx.
Cover Artist: Ashley Ruggirello
Book Description:
Eleven Tales steeped in Blood and reeking of Sulphur
J.G Clay takes you on a journey through the voids of Reality and into dark places where demons, mutants and inter-dimensional creatures taunt, taint and corrupt Humanity. Survival is not guaranteed, sanity is not assured and death lurks in every corner. These are the Tales of Blood and Sulphur: Apocalypse Minor; eleven twisted tales of terror and mayhem..... There are cracks in the skin of Reality.
Some are microscopic, others are as wide as a four-lane motorway. As the fault lines increase and widen, the door to our world shines like a beacon in the darkness, a warm and inviting sight to others beyond our understanding. When They cross over into our realm, The Tales begin...... A gambler taking one last desperate throw of the dice. A struggling writer making an unholy alliance. An eternal being fighting to stay alive in the financial capital of India. A man burdened with a terrible town secret. The Law Enforcers who must never cry. The End of Days live and direct from the rural heartland of England.
The blood is warm, the sulphur is burning, the tales will be told, the Apocalypse Minor is imminent!
Review:
Plot:
Since this book is technically a compilation of a bunch of stories, the plot isn't as consistent as it would be in a novel. However, Tales of Blood and Sulphur delivers on it promise of descriptive, horrifying writing. The story is told in such a way that it is very easy to see it as a movie in your head. It is very vivid, and quite possibly will scare you.
Writing Style:
The plot was very descriptive and vivid, but the writing didn't agree with me. I found it quite hard to get through this book quickly, but that is not necessarily a bad thing. I still loved the plot and the story and the different characters. However, I feel like horror is something that should make you want to turn the page quickly, to get away from whatever horrifying creature is following you or to get out of the haunted house you're in. I guess it could be enjoyed slowly too, but I enjoy the former better.
Rating and Overall Thoughts:
I rated this book 3.5 stars. It lived up to the horror genre, but the writing didn't quite flow for me. I definitely recommend it to anyone who doesn't mind a little scare from time to time. If you thought Goosebumps was scary, wait till you read this.
Top Ten List
Clay's Top 10 of Terror
Welcome one and all to J.G. Clay's Top Ten of Terror. These writers have all had a massive impact on me both as a writer and an avid reader, but for this Top Ten, I decided to break it down even further and pick the book that made the deepest and longest lasting impression on me. It wasn't easy.
10. 'Midnight by Dean R. Koontz (1989)
I may be about to commit an act of horror sacrilege and announce that recent offerings by Koontz have left me cold. However, this 'shapeshifting beast' classic from 1989 still has the ability to grip me.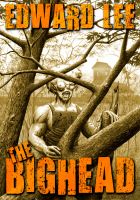 9. 'The Bighead' by Edward Lee (1997)
Dubbed the 'grossest book ever written' in some quarters, Lee's 'The Bighead' is the only book that has come close to making me feeling physically ill. Those of you acquainted with Lee's visceral style will know that he pulls no punches, but 'The Bighead' elevates nastiness to a whole new level. Not for the faint-hearted….
8. 'Necroscope' by Brian Lumley (1986)
One for the Brits. The Necroscope series is a mutant hybrid of Lovecraftian vampire story, Hi-Tech Spy Caper and 'Quatermass' on drugs. A thrilling series with a genuinely likable 'ghost-whispering' protagonist in Harry Keogh, the first novel in the series engrossed me from start to finish. Recommended in the post-'Twilight' sparkly vampire era….
7. 'Flesh' by Richard Laymon (1987)
The Grandfather of Splatter, Laymon's world was a dark gore-infested nightmare. I entered this nightmarish plane in my late teens, soaking up his keen eye for brutality and emulating in my early writings (which do not exist anymore….I think). 'Flesh' concerns itself with a yellow tubular sentient 'something' that makes you do very unpleasant things indeed but overcomes conscience by rewarding the host with a jolt of intense pleasure, a strange mix of parasite and narcotic. 'Flesh' is a major influence and a roller coaster of a read……
6. 'Ghost Story' by Peter Straub (1979)
Onto more genteel fare, Peter Straub's 'Ghost Story' is an elegant, dark work concerning a gentleman's gathering who love to tell ghost stories to one another and their entwining with an immortal vengeful succubus-like creature. Haunting, powerful and evocative……
5. 'The Hungry Moon by Ramsay Campbell (1986)
Back to my home country, I give you 'The Hungry Moon', Ramsey Campbell's tale of lunar beings, windswept moors, American religious Fundamentalists and the root of all human fears. One of my favourites from an underrated Horror writer.
4. 'The Fog by James Herbert (1975)
Staying in the sunny UK, a horror classic from the late great James Herbert. One of the very first horror novels I ever read, this eco-thriller from the Seventies recalls classic Brit Sci-Fi shows such as 'Doomwatch' and has some of the most effective creepy scenes ever committed to print. A true classic from a Master of Horror. Not to be confused with the equally brilliant film 'The Fog' by that other Master of Horror, Mr John Carpenter
3. 'Charnel House' By Graham Masterton (1978)
Another Brit but in a very U.S setting, 'Charnel House' treads the same path of Native American mythology as Masterton's 'Manitou' series. It also contains a scene that still gives me goosebumps to this day – an unfortunate man having his head stripped down to the skull yet remaining alive. A chiller from a great writer.
2. Salem' Lot by Stephen King (1975)
The Master himself. This was a difficult one to call. After all, King is one of the most prolific authors of our age. I had to go with 'Salem's Lot' because of one key scene – the vampirised youngster Danny Glick floating outside his friend's bedroom window begging to be invited in. To this day, I never sleep facing a window and all thanks to that one scene.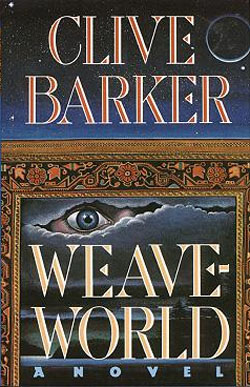 1.

Weaveworld by Clive Barker (1987)
We come to the end and yet another British author. This is nothing to do with parochialism or nationalism. All of the preceding authors have had an effect on me, my writing and my imagination. For that, I will be eternally grateful. Barker added something a little more – a new way of seeing and imagining the world and opening the territory of horror up to new unforeseen heights. Weaveworld, to my mind, is his best- a melding of horror and unparalleled imagination.
So there we have it. Ten of the best from ten of the best. This is by no means definitive, merely my take on the books that have made a deep and long lasting impression. I hope you don't disagree too much.
J.G Clay was born in Leamington Spa, Warwickshire on Halloween night, 1973. By sheer coincidence, it was the night of the full moon. The man was tailor made for the Horror Genre. A life-long horror and science fiction fan, he has written for his own amusement since his teenage years, taking time off to do the usual things that adolescent boys do and growing up disgracefully. Now in his forties, he has returned to his passion for the dark, the weird and the twisted. Tales of Blood and Sulphur is his first foray into the world of the Author but rest assured, there are plenty more stories to come. The man has a plan and he is out to scare the world, the solar system and beyond. Off duty, he has a passion for music, films and Birmingham City FC. He can also hold down a half decent bassline. J.G lives with his wife and step-daughter in Rothwell, Northamptonshire – the heart of the English countryside, an idyllic setting but a strange one to find a Nightmare Child of Halloween.
Website: http://jgclayhorrorauthor.com
Facebook: https://www.facebook.com/jgclay1973
Twitter: https://twitter.com/jgclay1
Goodreads:
https://www.goodreads.com/author/show/8266846.J_G_Clay