Review
Mistborn: The Final Empire by Brandon Sanderson - Partly Spoiler Review | Someone slap me for waiting this long... 10 years!
April 24, 2016
Title:
The Final Empire
Author:
Brandon Sanderson
Series:
Mistborn #1
Genre:
High Fantasy
Publication Date:
July 17th 2006
Format Read:
E-Book
Publisher:
Gollancz
Rating:
★★★★★
Synopsis:
A thousand years ago evil came to the land and has ruled with an iron hand ever since. The sun shines fitfully under clouds of ash that float down endlessly from the constant eruption of volcanoes. A dark lord rules through the aristocratic families and ordinary folk are condemned to lives in servitude, sold as goods, labouring in the ash fields.


But now a troublemaker has arrived and there is rumour of revolt. A revolt that depends on criminal that no-one can trust and a young girl who must master Allomancy - the magic that lies in all metals.
I've read Brandon Sanderson's YA Novel, The Rithmatist, which was a 5 star read. This, however, is on a whole new level of epicness.
Plot:
I always thought high fantasies would be hard to get into as the new world would require a lot of development. However, I found myself hooked into the world since the beginning. Ultimately, the concepts are extremely simple, but the magic system is incredibly intriguing.
In this world, a select few people can burn and draw power from 10 metals: Iron, Steel, Tin, Pewter, Zinc, Brass, Copper, Bronze, Gold and Atium. Each metal gives you a different ability. Tin gives you enhanced senses, Pewter gives you enhanced strength, Zinc allows you to flare emotions, Brass allows you to soothe or dampen emotions, etc. This is Allomancy. If you can burn one metal, you're a Misting. If you can burn at least two of the metals, you are Mistborn, like Vin (our main character.)
We also have the classes in society: The Skaa (lowest), The Nobility, The Obligators, The Inquisitors and The Lord Ruler (The Highest.) The Skaa are working class people, majority of the population, and are treated terribly. The Nobility are the rich with no worries. The Obligators and Inquisitors work for the government and for the Lord Ruler, who is their god.
Characters:
Vin was an amazing character. She had a hard childhood filled with betrayal and trauma. She was abandoned by her whole family, including her half-brother. This caused her to be very paranoid and unwilling to trust in anything but what she had experienced: betrayal and unfairness. She found friendship and family foreign. However, she has a great character arc throughout the book and she evolves to become a very different person.
Kelsier, oh goodness, has there ever been anyone better than Kelsier? He takes Vin in once he discovers she's an Allomancer and trains her to master the art. He is a Crewleader of a thieving crew who respects him and is funny, witty, understanding, caring, whatever good qualities you can think of. He might come off as overconfident, overambitious and boisterous to some. He could lift the spirits of many without Allomancy and was a selfless being.
Sazed, a servant, was a perfect gentleman at all times. He would never succumb to anger or bad temper. His appearance would remain calm, cool and collected throughout and he was just the epitome of perfection. I loved him.
The constant banter between Breeze and Ham, other members of the thieving crew, was hilarious. Ham was more of a motivational speaker than a soldier, and Breeze was more of a soldier than a soother (misting who dampens emotions.) Both were very entertaining to read about, and were clever and experienced in their own fields.
Dockson was the responsible member of the crew. He was not an Allomancer but was the glue that held the team together with organisation and thoughtfulness. He arranged and planned all the jobs the crew performed and took care of the important things that go unnoticed, but without which it would be impossible to function.
I despise Elend Venture. He was a pompous, arrogant, ignorant noble who has an extremely high opinion of himself. Everyone I've heard talk about this book loves Elend, and I don't see why. The only reason I see for people to possible like him is that he's an avid reader. He is clueless about Vin's true talent and thinks he's a danger to her. YOU. ARE. NOT. THAT. IMPORTANT.
Writing:
Brandon Sanderson's writing is very engaging. I don't think it's possible find it boring. The way he introduces his world to the readers doesn't feel like information is being dumped, but more like we are part of the world and we get to experience life in The Final Empire.
I recommend this to everyone. It looks huge, but if you get into it, time flies by and voila! You're done. Great world, Great characters, Great writing.
**WARNING WARNING SPOILERS AHEAD PLEASE STOP HERE IF YOU WISH NOT TO BE SPOILED WARNING WARNING**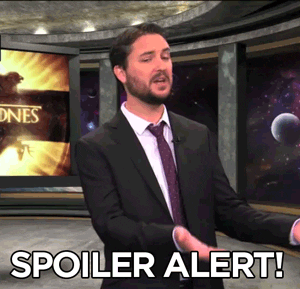 Oh. My. God. WHY WHY WHY WHY WHY WHY WHY WHY WOULD YOU DO THAT? YOU JUST KILLED OFF THE BEST CHARACTER IN THE FREAKING UNIVERSE AND THEN HAD A MIST-WRAITH FREAKING DIGEST HIM!
I was so surprised when Kelsier died. I died inside. I spent 2 hours googling his death and questioning if it was real, and the questioning continues. Kels-freaking-ier cannot be dead. How can the best main character be dead? I hate that stupid Kandra OreSeur. HE DIGESTED AND ATE KELSIER! :(
I also can't believe Lord Ruler was a Feruchemist and Allomancer. This probably means Vin is the same too because why would Sanderson build up Vin's strength and ability so much if not? The scene where she pulled out the immortality bracelet was so badass! Loved it! In your face lord Ruler!
My favourite scene was when Kelsier was introducing all the metals to Vin. That training session didn't feel info-dumpy at all! It felt like I was Vin doing the Allomancy. My favourite ability is pushing and pulling on metals. It would be so cool to be able to fly!
But really, WHY WOULD YOU KILL KELSIER??
Marsh is an INQUISITOR? WHAT? I was so shocked when in the middle of the fight Marsh came out with spikes as eyes and Lord Ruler said "A betrayal from one of my own? AH! KILL HIM! *gets killed himself* It was hilarious! If only Kelsier was alive to witness that his brother was actually alive... *glares at Brandon Sanderson*
Vin, I would have thought you of all people wouldn't fall into the trap of young, stupid, teenage "love," especially with ELEND! You barely know him for god's sake, and he knows "Valette," not Vin. So. Stupid. At least pick someone else. I'd rather you smooch away with Spook than Elend. I kind of want her to end up with Sazed (weird, I know.)
What are your thoughts on this book?
-Rekha