Randomness
MAGNUS CHASE #2 HAS A COVER!
May 03, 2016
The Hammer of Thor, the sequel to Magnus Chase and the Gods of Asgard, now has a COVER! And the big reveal.... *drumroll*..... (this isn't actually an official cover reveal I just checked Goodreads and the cover was there)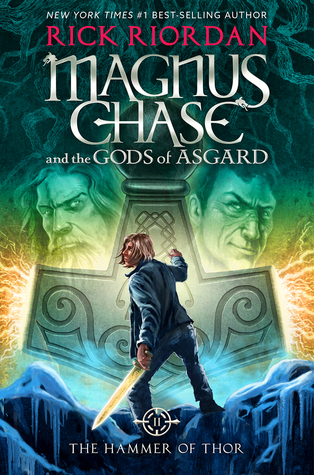 EEEEEEEEEEEEEEEEEEEEEEEEEEEEEEEEEEEEEEEEEEEEEEEEEEEEEEEEEEEP!
Honestly, I have no idea what's going on here. I'm guessing the two people in the background are gods, one of them being Thor. The guy on the front does NOT look like Magnus, or at least not how I pictured him. So I'm going to pretend he isn't Magnus, although it probably is since... well.. the sword and who else would be on the cover except the main character? Apparently, "Magnus" is climbing a mountain or cold natural structures of some sort to get to something and that thing is the hammer? The thing in the background does NOT look like a Hammer but hey! The world of mythology is full of unexpected things.
Overall, I give the cover an A or a 93%. Definitely liked the first cover better because there were no conspicuous weird faces (at least I didn't think the face on book 1 was that weird.. though it was probably the same weird face), but it's beautiful and probably perfectly represents the book, knowing Uncle Rick. I love the green-yellow gradient colour scheme - possibly more than the purple-pink of The Sword of Summer. Also, I love how they put the "II" in kind of a weird version of the Roman numerals, firstly because they've actually indicated that it's the second book and secondly because it's funny, as some characters from HoO were from the Roman mythology world. Wait a minute.. does this mean we might meet some of our Roman demigods??? MAYBE! I can't wait!